WatchGuard Network Security Solution
WatchGuard offers the most comprehensive portfolio of security services in the industry, from traditional intrusion prevention, gateway antivirus, application control, spam prevention, and URL filtering, to more advanced services for protecting against evolving malware, ransomware, and data breaches. Each security service is delivered as an integrated solution within an easy-to-manage and cost-effective Firebox appliance.
Basic Security Services
The Basic Security Suite includes all the traditional network security services typical to a UTM appliance: Intrusion Prevention Service, Gateway AntiVirus, URL filtering, application control, spam blocking and reputation lookup. It also includes our centralized management and network visibility capabilities, as well as, our standard 24×7 support.
   Intrusion Prevention
   Reputation-Based Threat Prevention
   URL Filtering
   Spam Prevention
   Gateway AntiVirus
   Application Control 
   Network Discovery
Advanced Security Services – Only in the Total Security Suite
The Total Security Suite includes all services offered with the Basic Security Suite plus artificial intelligence enhanced advanced malware protection, DNS level protection, next-generation cloud sandboxing, data loss protection, enhanced network visibility capabilities, cloud-hosted threat correlation and scoring, and the ability to take action against threats right from Dimension, our network visibility platform. It also includes upgraded Gold level 24×7 support.
  APT Blocker
  Data Loss Prevention
  Threat Detection and Response
  IntelligentAV
  Access Portal
  DNSWatch
Firebox Firewall Appliances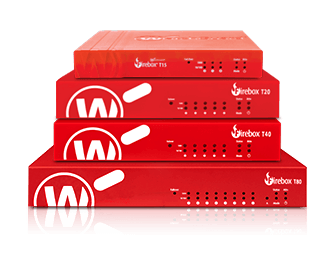 Tabletop Firebox Appliances
High performance, total security tabletop appliances. Built-in PoE+. Wi-Fi optional. Ideal for small, home, and branch office locations.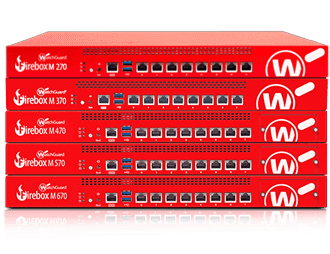 Rackmount Firebox Appliances
1U rackmount, total security appliances with screaming fast performance ideal for midsize and distributed enterprise organizations.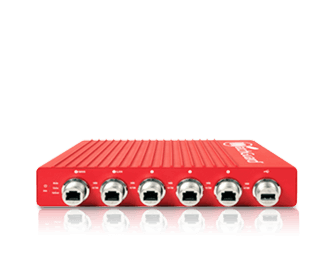 Rugged Firebox Appliances
Total security built to withstand harsh conditions and extreme temperatures. IP64-rated appliance. Perfect for manufacturing and IIoT environments.
AuthPoint - Multi-Factor Authentication

AuthPoint

– Secure, Easy and Powerful
AuthPoint multi-factor authentication (MFA) provides the security you need to protect your assets, accounts, and information. Let your company work confidently and worry-free with the powerful protection of AuthPoint.
Easy-to-use authentication straight from your mobile phone
No need to carry tokens – authenticate using a simple mobile app on your phone.
Quick, simple deployment and Cloud-based management
Get up and running right away. Manage AuthPoint anywhere, anytime with a user-friendly management platform.