Stonebranch - Real-time Workload Automation for Hybrid IT Environment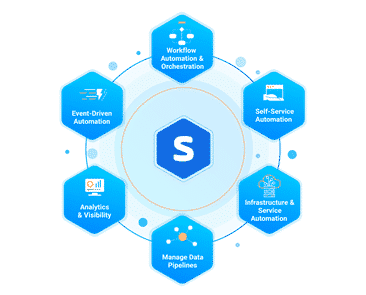 Stonebranch Workload Automation builds IT orchestration and automation solutions that transform business IT environments from simple IT task automation into sophisticated, real-time business service automation, helping organizations to seamlessly orchestrate workloads and data across technology ecosystems and silos.
No matter the degree of automation, the Stonebranch Universal Automation Center platform is simple, modern, and secure.
Stonebranch SaaS-based Workload Automation Across On-prem, Cloud, or Hybrid Environments
Workload automation is a step up from traditional job scheduling as it offers real-time business automation. The Stonebranch Workload Automation solution helps organizations automate, manage, and orchestrate their IT processes. This SaaS- or on-prem -based solution allows users to control workflows across multiple platforms and business applications regardless of where the data resides.
Hybrid Cloud Orchestration
Stonebranch's Coud Service Automation solutions are the glue that bonds a hybrid IT landscape together. The Universal Automation Center (UAC) platform approach centralizes automation management across your entire environment, improving agility, efficiency, and visibility for IT Ops teams. Stonebranch cloud orchestration capabilities enable enterprises to achieve end-to-end automation across all disconnected cloud environments – private cloud, public cloud, and multi-cloud environments – all from a single solution designed for real-time, event-based automation.
Stonebranch Cloud Orchestration solutions include:
Hybrid Cloud File Transfer
Cloud Infrastructure Automation / Cloud Transition
Cloud Bursting
Big Data Pipeline Automation
Stonebranch Big Data Pipeline Orchestration solutions enable enterprises with an ability to manage the flow of big data at scale. With a centralized control for all of your data processes and system from a single pane of glass view, building a reliable and secure data pipeline has never been easier. Our solution offers: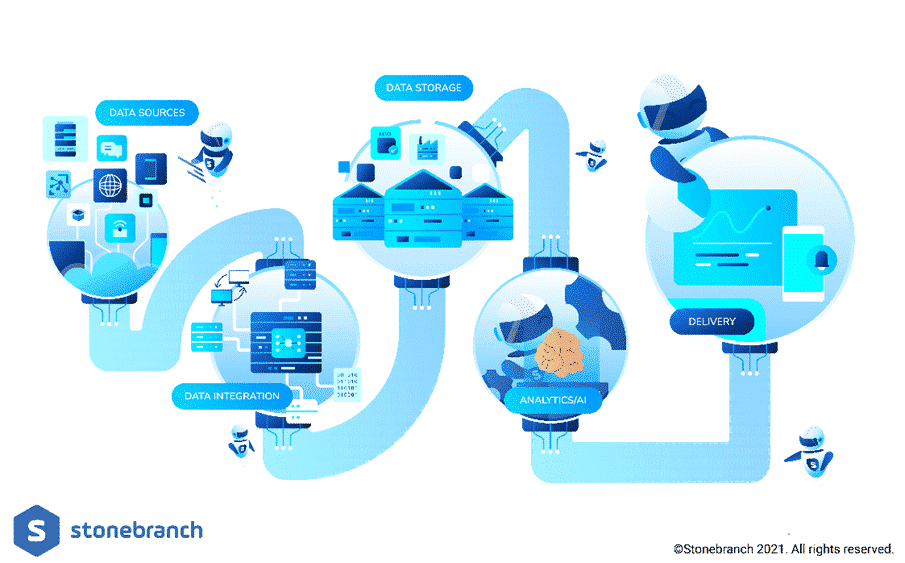 Process Visibility: From on-prem to the cloud to containerized microservices, Stonebranch enables IT teams with full data pipeline process visibility and observability in real-time. Built-in alerts allow users to quickly identify the data pipeline stages that may be having issues so that they can be located and addressed immediately. 
Container technologies automation and orchestration: Move data back and forth between containers and schedule big data tools to run in containers. Stonebranch offers full integration capabilities with Kubernetes and Docker
Infinite Integrations: Integrate to any platform or application from the mainframe to the cloud. Use pre-packaged data pipeline integrations with tools including Informatica, Snowflake, Databricks, AWS, and Hadoop. Or download integration blueprints from the community-driven opensource Stonebranch Marketplace.
Reports and Business Intelligence: Visual dashboards and drill-down reports designed to enable real-time guidance, SLA monitoring, and updates on your entire operation. Use proactive alerts to root cause issues and find solutions faster than ever.
Built-in Managed File Transfer: No need to have separate tools that move source data into the data pipeline. Adding UAC's built-in, and highly secure, MFT capabilities into the workflow design process makes automating and moving data a breeze.
The Power of Infinite Integrations
For IT operations teams, the ability to centrally manage integrations with an IT automation platform is the key to streamlining data connections in an ever-growing landscape of applications and platforms across hybrid IT environments.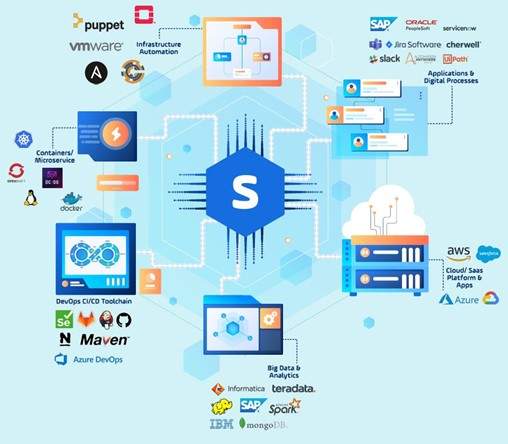 Stonebranch offers an ever-growing list of integrations with multiple business systems and third-party platforms including but not limited to: Teams, Slack, Service Now, Informatica, Snowflake, SAP, Oracle, Salesforce, Hadoop, SAS, AWS, IBM, etc.
The Universal Automation Center from Stonebranch enables advanced automation across hybrid IT
environments, providing the flexibility to adapt to your changing applications over time. Visit Stonebranch Marketplace to learn more.
Why Choose Stonebranch Workload Automation?
Advantages of Universal Automation Center
CLOUD NATIVE – Stonebranch solutions were born in the cloud, so all our automation solutions fit perfectly within a hybrid IT environment. But we're not limited to the cloud. The Stonebranch solutions also work well with mainframe environments and large distributed environments across any number of data centers. Clients have the flexibility to deploy Stonebranch solutions in either a cloud-based SaaS model or on-prem.
LIFE CYCLE MANAGEMENT – after a solution is deployed and implemented, Stonebranch continues to support it. Our customers receive continuous and regular updates, new releases, and a solid foundation of support from specialized consultants and professionals.
SCALABILITY – growing companies concerned about scale can rely on Stonebranch's solutions to provide flexibility, whether it's current technology or future technology that might be added to the infrastructure. Stonebranch's solutions are future-proof, meaning it is platform agnostic and allows the organization to scale up or down to match current growth trends.
SIMPLICITY – today's IT is dynamic and changes month to month. Stonebranch consolidates complex, scattered solutions into one control center, simplifying the way IT approaches automation in the cloud. Stonebranch's solution is an easy-to-use, future-proof design that empowers IT Ops to make educated decisions on the way resources are deployed and managed.
AGILITY – Stonebranch has a faster time-to-market (TTM) compared to other vendors, so its solutions support digital businesses at every stage of the digital transformation, whether they are new to automation and cloud provisioning, or have a long-standing hybrid cloud set up with complex configurations where automation hasn't been perfected yet.
RESOURCE UTILIZATION – any transition takes manpower and several hours to implement. Stonebranch reduces this timeframe and saves IT Ops valuable time with help from our professionals. By reducing overhead, your IT Ops team and critical IT staff have time to perform other critical tasks.
AUDITABILITY – an organization tied to specific data regulatory standards will be able to stay compliant and quickly run audits with Stonebranch solutions. Whether it's HIPAA, SOX, PC-DSS, or any of the other common regulatory standards, data is protected and transferred with compliance in mind.
RESILIENCE – like any IT process, errors occasionally happen and must be remedied. Usually, this requires human interaction, which can be expensive and timeconsuming. Stonebranch's Universal Automation Center is resilient against errors and provides fault tolerance that automatically recovers.
SIMPLE LICENSING MODEL – no hidden costs, added support charges or any other conditional options. The Stonebranch subscription model comes with all the necessary tools, licensing and features necessary for an enterprise automation solution. We also support the conversion process with a 24/7 helpdesk, a professional services catalogue and a loyal user community.
About AskMe
AskMe is an enterprise IT solution provider in Bangkok and Chiangmai, Thailand.  We are experienced implementer in Stonebranch Workload Automation Solution.  We can help both customers and partners to archive its targets to automate, manage, and orchestrate IT tasks and processes across multiple platforms and business applications.