Dynatrace - Consulting and Implementation Services
Dynatrace is the world's most complete, most powerful and most flexible digital performance solution for today's digital enterprise—whatever, wherever, we have you covered.  Start anywhere and expand to meet your enterprise strategy. It has over 5,800 customers range from SMBs to the largest global enterprises across all industries. 
Improve customer experience, launch new initiatives with confidence, reduce all operational complexity and get to market before your competition.  It's no longer about delivering great application performance. It's about delivering superior business results.
About Our Experiences with Dynatrace Consulting and Implementation Services
AskMe is the best well-known and high reputation in Dynatrace Consulting and Implementation in Thailand. We are the first service partner of Dynatrace.  We provide the Dynatrace APM solutions to many large organizations in Thailand. 
AskMe' s Value Proposition
AskMe has been working with Dynatrace since it started this business in Thailand 10 years ago.
We have the longest experience with Dynatrace products in Thailand.
We have the largest customer references in Thailand.
More than half of existing
Dynatrace Thailand customers has been implemented by AskMe implementation team including the largest Dynatrace customer site. 
Our implementation team also has a long experience and has Certifications from Dynatrace.
We are the first Dynatrace Premium Partner with Intelligent Observability Competency Certification in Thailand.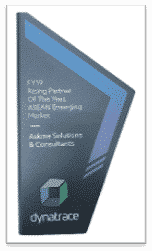 Recognizing Top Performing APAC Partner
In 2019, Dynatrace had recognized our efforts in helping enterprises transform with Dynatrace, and to celebrate the successes of our partnerships, we were honoured to present the below partner award categories:
AskMe – Dynatrace's Consulting and Implementation Services
Accelerate time-to-value by speeding up implementation and adoption.
Even the most automated solutions require deployment and configuration, and AskMe's expertise in Application Performance Monitoring (APM) puts it ahead of in-house teams when it comes to implementation. An AskMe expert becomes an extension of your team for each APM engagement, educating, mentoring, and supporting the rapid implementation and optimal setup of your Dynatrace deployment.
APM Launch Services for the Short-Term
During a 5-to-20-day engagement, an AskMe Consultant will work with your team locally or remotely to properly install and configure Dynatrace and ensure that your application(s) run as planned. AskMe's certified Dynatrace experts share vital insights and best practises, constantly engaging in "how and why" knowledge transfers that enable your team embrace and effectively use Dynatrace to quickly resolve issues. We assist you in getting the most out of your investment by offering an application experience that encourages user adoption.
Deliverables to Expect
AskMe's fast-track plan allows you to immediately take advantage of a leading cloud, container, and microservices monitoring solution.